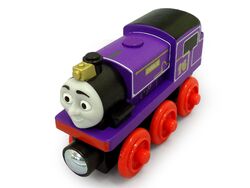 Charlie
Charwelton, better known by his nickname of Charlie, is a silly tank engine who works on the NWR.
Bio
Charlie first arrived on Sodor to help out on the railway. He was said to be the favourite engine of the Mainland Engines. When Thomas was to show him around, Charlie convinced him to have fun instead of bringing Alicia Botti to the concert. He later convinced Edward to have fun instead of bringing The Fat Controller's car to the mechanic. This resulted in more chaos when Edward suggested repairing the car at the Sodor Steamworks.
Persona
Charlie has a reputation for being a really fun engine. He has an unquenchable desire for fun, games and play, and is said to have been the favorite engine of the Mainland Controller. Charlie can get easily distracted by his japes, sometimes distracting others in the process. Charlie can be pouty, huffy, and teasing at times, but he always wants everyone to be enjoying themselves. Often though, Charlie will learn that the opinions of others, keeping calm and working hard to complete your jobs foremost, are important if you want to be a Really Useful engine. He loves to play tricks, and tell jokes. He is a hard worker, though, and often is seen shunting trucks in the yards across Sodor.
Basis
Charlie is a Manning Wardle L Class. He has a twin named Billy.
Gallery