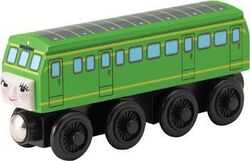 Daisy
Daisy is a diesel railcar who works on Thomas' Branchline.
Bio
After Thomas was sent to the Works to have his bufferbeam repaired in 1961, Daisy was loaned from B.R. to do his work. She is confident in herself and can sometimes boast of her abilities in particular situations, unconcerned, despite having never actually been in such a position before. Daisy was nasty to Henrietta, Annie, and Clarabel, refused to sleep in the Ffarquhar engine sheds on the grounds that it was "smelly", and blatantly refused to pull freight because it was "bad for her swerves". Daisy later called Toby cowardly for having sideplates and cowcatchers and claimed that one only needed to "toot and look them in the eye" to shoo animals away.
Persona
Daisy is a Diesel railcar, who has been known to consider herself highly sprung and right up to date. She will sometimes presume she can show other engines a thing or two, despite knowing little on the matter, until she actually learns for herself. After arriving on Sodor, she insisted that she required delicate handling and considered pulling trucks and vans to be below her. She was very lazy and stubborn, but the Fat Controller spoke severely to her, telling her that his engines must work hard and that he sends lazy engines away. However, working hard after Percy got himself into a predicament, the Fat Controller felt she deserved another chance. Daisy is now good friends with the other engines on Thomas's branch line, tries to work much harder to be a useful engine, and is better capable of handling things alone.
Appearances