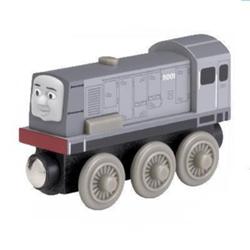 Dennis
Dennis is a lazy grey diesel.
Bio
Dennis was built at Crewe in 1949 as a test diesel. He was sent to Sodor as a failed engine in 1959. He was given work on Thomas' branch line due Toby's accident. He was supposed to take some bricks to the new museum on the branch, he tried to take advantage of Thomas. He soon learnt his lesson when he reversed into a ditch. Michael Steinberg, a German railwayman saw the stranded diesel and purchased him. He became his driver and took him to the top of the Peel Godred Line to build a new station, now called Goodland. This was the beginning of the Rhyndale Railway, but it wasn't called that at the time. It was known as the "Peel Godred extension project," much of the details were kept secret from the North Western Railway. As the new station was a yard, Dennis carried rails, spikes and ties down from Goodland, building a line to the tiny village of Rhyndale, eventually finishing at the sudric ruins of Ffarllyn.
In 1960, while Dennis was working at the Ffarquar Quarry, he was with number of other Diesels later waited in the quarry yard to hear if Thomas had been found in the days leading up to the reopening of Great Waterton.
Persona
Dennis is a very lazy Diesel who tries to take advantage of others and depend on them to do his work. Dennis will always create excuses to get out of work, but usually gets caught in his lies, and is always very sorry - until he finds another opportunity to get out of work again.
Trivia
Appearances
Season 1 - Dennis, Billy, and Hank, Double Rescue, Overloaded, Chills and Spills, Rosie, Grand Opening, Neville and the Coaches, Blast From the Past, Flora and New Year's.
Gallery