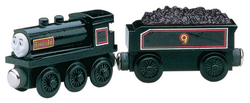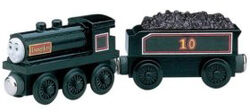 Donald and Douglas
First Appearance: Grand Opening
Voice Actor: Neil02
Class: CR 812 0-6-0
Designer: John F. McIntosh
Builder: St. Rollox Works
Configuration: 0-6-0
Built: 1899
Donald and Douglas are twins that work on the North Western Railway.
Bio
Donald and Douglas were built by John F. McIntosh at the St. Rollox Railway Works in Springburn, Glasgow, Scotland and worked on the Caledonian Railway in Scotland, a large network that extended along the country's east coast as well as the central and south-western regions. Despite being limited to Caledonian metals, they appeared to have a familiarity with other railways, as they were familiar with the locomotives and livery of the Highland Railway. Giving long and stalwart service, Donald and Douglas eventually became 57646 and 57647 on the Scottish Region of British Railways. In 1959 Sir Topham Hatt needed a goods engine and by his request, BR decided to transfer 57646 (Donald) to Sodor.
Persona
Donald and Douglas are Scottish twin engines. Donald is numbered 9 and Douglas 10. They are practical and level-minded, but, despite their maturity, they enjoy playing practical jokes and have been known to impersonate one another in the past. When they arrived on Sodor, they caused the Fat Controller confusion, as only one engine had been expected. The twins' numbers allegedly slipped off on the way and neither could recall them; a plot to prevent one of them losing their twin to scrap. Namely, it was Douglas who had not been expected. His salvation from the scrap-heap may have contributed towards his decision to later aid Oliver in his own daring escape from scrap.
Appearances