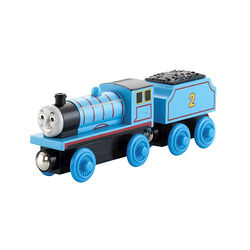 Edward
First Appearance: Rosie (episode)
Friends: Everyone (except enemies)
Voice Actor:
Class: Furness Railway K2
Designer: W. F. Pettigrew
Builder: Sharp, Stewart and Co.
Configuration: 4-4-0
Built: 1896
Edward is an old, blue, mixed-traffic engine who runs the Wellsworth-Brendam Branch Line.
Bio
Edward was built by Sharp Stewart and Company in Manchester, England in 1896 and worked on the Furness Railway before coming to Sodor in 1915 to finish the building of the North Western Railway. Edward has always been a kind and wise engine, and he also attended the Rhyndale Railway's grand opening in 1963.
Persona
The best thing about Edward is that he is very kind. When the other engines get rowdy, it is Edward that Sir Topham Hatt turns to in order to calm everyone down and restore order on the railway. He is also very wise, and know a lot of things about how the railways work. Edward is a very helpful friend to everyone, and they thank him for it.
Appearances
He may appear in New Year's and Home for the Holidays