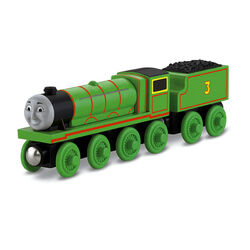 Henry
First Appearance: Grand Opening
Voice Actor: Rhyndale Railway
Class: LMS Stanier "Black 5" 4-6-0 with Fowler tender, originally GNR Ivatt Class C1/LNER Gresley Class A1/A3 hybrid 4-6-0
Designer: Sir Topham Hatt I and William Stanier
Builder:
Configuration: 4-6-0, originally 4-6-2
Built: circa 1919, rebuilt 1935
Henry is a long, fast green engine who works on the North Western Railway.
Bio
Henry is a green mixed-traffic engine. He used to run on special coal until he was fitted with his new shape. Though their relationship has been bad at times, he is very good friends with Gordon. Henry's favorite job is to pull the Flying Kipper.
Persona
Henry is a kind, gentle, caring sort of engine. He enjoys doing all of his jobs across Sodor. Although he is prone to illness, Henry still tries his hardest to get the work done. He loves to stop by the forest and listen to the silence.
Trivia
Appearances
He may appear in New Year's and Home for the Holidays