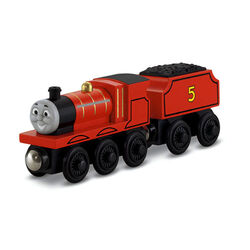 James
First Appearance: Grand Opening
Voice Actor: Up for Audition
Class: L&YR Hughes Class 28 2-6-0 hybrid with Fowler tender
Designer: George Hughes
Builder: Horwich Works
Configuration: 2-6-0, originally 0-6-0
Built:  1912/1913
James is a red mixed-traffic engine. He thinks of himself as a really splendid engine, though this can get him into trouble. He likes to pull coaches and will not be seen pulling trucks unless prompted.
Bio
James was designed by George Hughes and built at Horwich Works in 1912/13 as an 0-6-0 with wooden brakes. Sometime after his build, but before going to Sodor, James was experimentally rebuilt with a pony truck, making him a 2-6-0. In 1923, James was sold to Sir Topham Hatt for mixed traffic duties. After his first accident, he had his front sandboxes removed, was rebuilt with proper brakes and a Fowler tender (due to his old tender being wrecked from the crash) , and repainted red with gold stripes and black lining. He was troublesome when he returned, ruining Sir Topham Hatt's new top-hat with his steam and jarring his coaches so much that a brake pipe leaked. He was threatened to be painted blue (which James detests), but later promised to be useful again and made the line's worst trucks behave after being given a second chance
Persona
James is a vain bright red engine. He always thinks he is better than other, which can lead to trouble. However, James is also kind, and will do whatever he can to help. He is always trying his best to stay clan, but that is sometimes a chore. But James has a good heart, and will always be a useful engine.
Appearances
He may appear in New Year's and Home for the Holidays