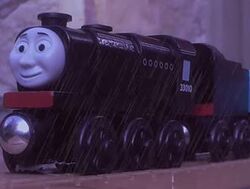 Neville
Neville is a black box-shaped tender engine.
Bio
The engines did not like Neville at first. Although he was kind and friendly, Neville had the misfortune of looking like a Diesel. Thomas saw him with 'Arry and Bert and soon a rumour spread that he was planning to bump the steam engines. Luckily, the rumour was rectified and Thomas befriended Neville after rescuing him from a broken viaduct.
Despite his gentleness, Neville has acted a bit cheeky and once laughed at Emily for working with Whiff. He was transfered to Rhyndale after that along with Molly.
Sometime later, Neville told Thomas and Percy about the job of collecting the Sodor Brass Band when he was collecting some coal for the Rhyndale Interchange.
Persona
Neville is kind, highly enthusiastic, gentlemanly and naive. He never holds a grudge but can be easily hurt if someone makes fun of him for how he looks. Despite everything he's bubbly and likes to help any engine out of trouble.
Basis
Neville's an SR Bulleid Q1 locomotive, which were often referred to as "ugly ducklings". The engine Neville is based on (33010) was scrapped in 1964.
Trivia
ThomasTheAussieEngine was intended to be Neville's voice actor but this was changed during the second part of production.
Appearances
Gallery