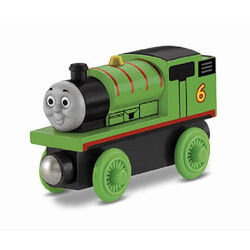 Percy
First Appearance: Grand Opening
Voice Actor: KnapfordTrevor43
Class: GWR Avonside 0-4-0ST with No. 1430 "Trojan" body shape and 1361 Class bunker
Designer: Avonside Engine Company
Builder: Avonside Engine Company
Configuration: 0-4-0ST
Built: Late 1920s or early 1930s
Percy is a saddletank who works on the Thomas' Branchline.
Bio
Percy is a saddletank who was brought to Sodor to help run the railway during the big engines' strike. Percy was probably built by Avonside and had gone through a subsequent rebuild in the years preceding his second-hand sale to the North Western Railway. He is said to have been found wearing Hunslet parts, according to workers at Crovan's Gate. He is Thomas' best friend and his favorite jobs are to pull the mail train and shunt.
Persona
Percy is incredibly accident-prone and holds the dubious record of the most accidents in one season - five, in the second season - crashing into some buffers, falling into the sea, being pushed onto a brakevan, colliding with a cart, and being hit by a falling crate of treacle. So far, his silliest accident yet was in the sixth season, when he slipped on oily rails, crashed through the chocolate factory, and emerged covered in chocolate. Despite this, he is always tries to do his best, learn from his mistakes, and get his jobs done--a loyalty which Sir Topham Hatt has praised him for on several occasions.
Appearances
He may appear in New Year's and Home for the Holidays