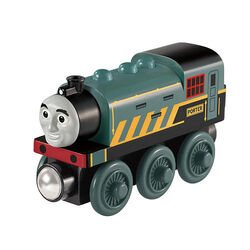 Porter
First Appearance: Grand Opening
Voice Actor:N/A
Class: H.K. Porter 0-6-0ST
Designer: H. K. Porter, Inc.
Builder: H. K. Porter, Inc.
Configuration: 0-6-0ST
Built: 1917
Porter is an American dockside tank engine who works at Brendam Docks.
Bio
When Salty was experiencing engine trouble, Sir Topham Hatt brought Porter to Sodor to work at Brendam Docks while he arranged for Salty to be mended at the Sodor Dieselworks. When Porter arrived to help out, Salty was convinced that Porter had been sent to replace him. After some mishaps, Porter managed to stop Salty from having an accident, then using his sandboxes to sand the rails after Salty accidentally spilt oil on them. Later, the Fat Controller told Salty that he was to work with Porter and that he was not going to be replaced.
Persona
He is a kind and helpful character, with a good sense of self-confidence and does not worry about what other engines say about him, such as calling him a 'camel' because he has so many humps. Porter is not above engaging in a bit of friendly dockside banter himself, but when another engine is feeling low he can be very supportive. Porter's easy-going manner makes him very popular. He is a hard worker and always does his work throughly, although he can be a bit of a perfectionist at times. He is also very brave and can keep his cool in a crisis.
Appearances