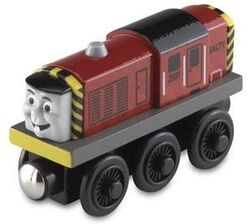 Salty
Salty is a dockside diesel who works at Brendam Docks.
Bio
Salty worked on an unnamed coastal railway for many years, where he acquired his vast collection of stories and songs, before coming to Sodor to work at the Centre Island Quarry with Mavis, Bill, and Ben. Salty was upset, being used to working near the sea, but he soon won the trucks over with his tales and sea shanties, and as a reward for his hard work was sent to work at Brendam Docks. Salty has shared many stories with his fellow engines that have often come into play later on.
Persona
Salty is a fun, hard-working, dockside diesel who loves to be by the seaside. He always is friendly, and tries his best to be nice. He always is singing sea-shanty's, and telling tales of the sea, much to Cranky's dismay. He is also very good with the Troublesome Trucks, as he is able to make them listen by singing to them. Salty loves to help his friends and make new ones.
Appearances