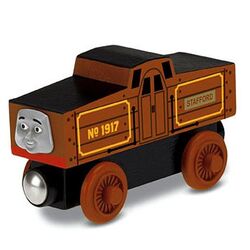 Stafford
Stafford is a battery-electric shunting engine who works on Thomas' branch line.
Bio
Stafford came to Sodor to be a shunting engine on the North Western Railway. He always tries to do his best. He always tries to make sure the yard is in order, and the trains leave on time. Stafford runs on a battery, and constantly needs to charge it. Despite this, Stafford always works his hardest, and is really useful.
Persona
Stafford is a kind, gentle electric shunting engine. He is always wanting to be really helpful. Stafford will always do his best to make sure his work is done properly. He is very kind to new friends, and will always be there to help out anyone. Stafford is humble, courteous, and has a Yorkshire accent. Stafford is very patient, calm, and mannerly. He does not let the antics of the bigger, haughtier engines bother him too much, keeps level-headed as he goes about his day, and brushes off any troubles without much fuss. He is more than content with taking things slow and not having to travel long distances and he is more than proud to work on the Fat Controller's railway.
Appearances
Trivia
Rhyndale Railway does not own a model of Stafford as of May 9, 2014.