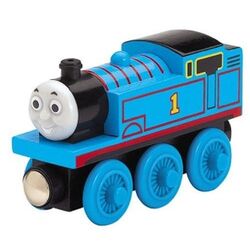 Thomas
First Appearance: Grand Opening
Voice Actor: Dragonmdk
Class: LB&SCR E2
Designer: L. B. Billington
Builder: Brighton Works
Configuration: 0-6-0T
Built: 1913
Thomas is a cheeky and fussy little engine.
Bio
Thomas came to Sodor in May 1915, as a station pilot at Vicarstown, until 1946, at which time he was transferred to Wellsworth following an incident with some trucks. Later that year, after rescuing James from his crash, he was given charge of the Knapford-Ffarquhar branch line and two coaches, whom he named Annie and Clarabel.
Thomas attended the Rhyndale Railway's grand opening in 1963.
Persona
Thomas is a little blue engine who loves to work on the island. He is very proud of his branch line and coaches, Annie and Clarabel. He often gets into scrapes by doing things best left to bigger, more sensible engines. But he always wants to do his best to be a Really Useful Engine.
Trivia
Thomas is based on a London, Brighton, and South Coast Railway 0-6-0 Drewry with extended side tanks.
Appearances

He may appear in New Year's and Home for the Holidays