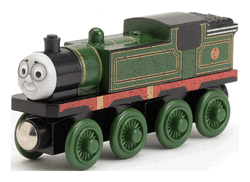 Whiff
Whiff is a big, grubby tank engine who works on the North Western Railway.
Bio
Whiff arrives on Sodor in 1977. Emily was asked to help him out. Emily was under the impression that he would be more intriguing and that the task would be more exciting; Emily was eager at first, but disappointed when she learned that Whiff worked with rubbish. Emily tried to avoid being seen with him, but Whiff found her almost everywhere she went. Although the two were mocked by other engines wherever they went, Whiff maintained a cheery expression and seemed either not to notice or care.
Persona
Whiff is cheerful and optimistic. He enjoys his job of collecting rubbish. He doesn't seem to care what the other engines think about him: either that or he is oblivious to their opinions. Despite that, he is friendly and always does his job well. He is somewhat naive, as he didn't realise why the other engines tried to avoid him so much.
Appearances